NOVEMBER 1
November 1, 1859: Wisconsin's first train disaster occurred when an ox jumped onto the tracks and derailed an oncoming train seven miles south of Watertown, killing fourteen people and injuring thirty others.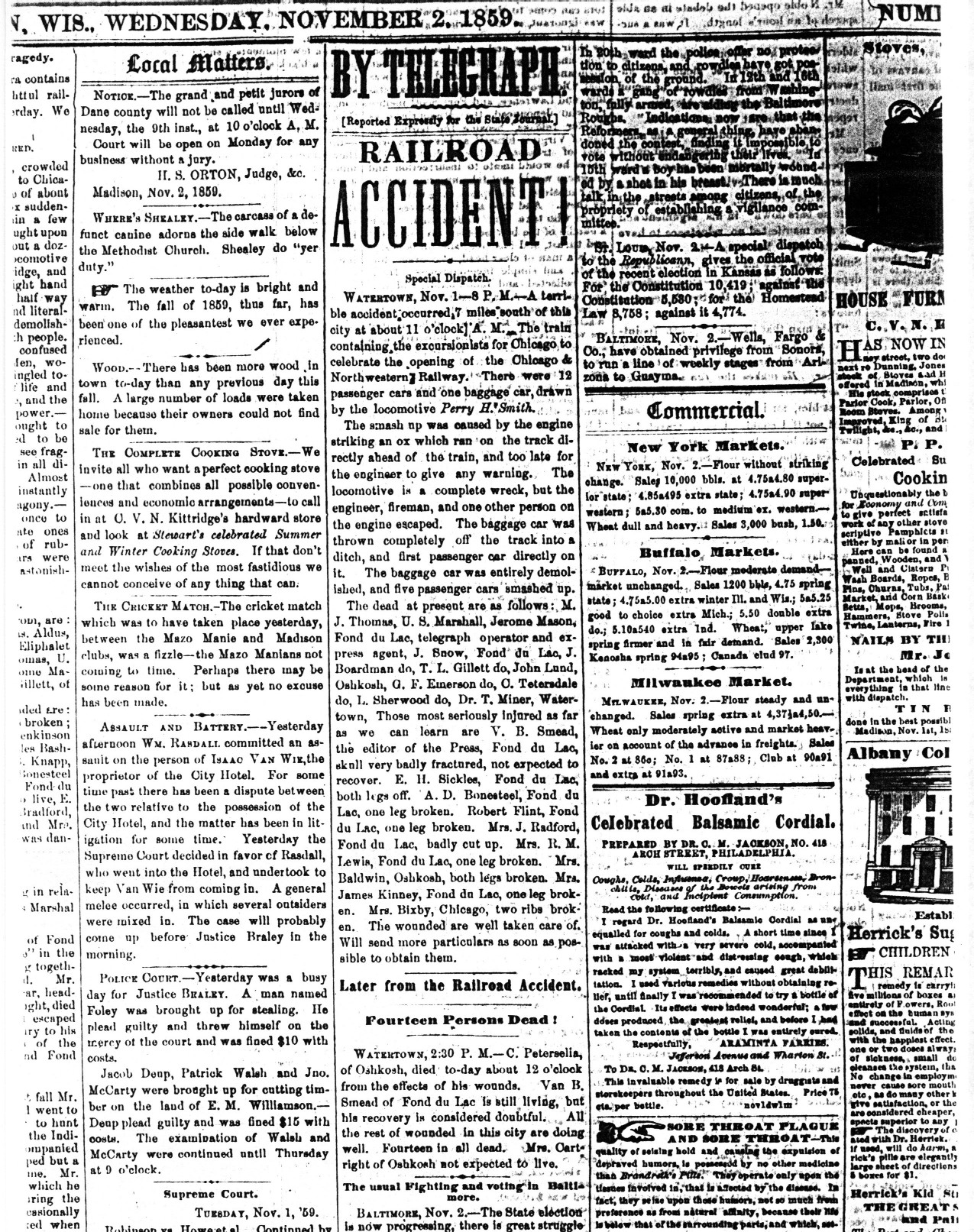 Wisconsin State Journal, Nov. 2, 1859
BY TELEGRAPH
[Reported Expressly for the State Journal]
RAILROAD
ACCIDENT!
Special Dispatch
Watertown, Nov. 1 - 8 P.M. - A terrible accident occurred 7 miles south of this city at about 11 o'clock A.M. The train containing the excursionists for Chicago to celebrate the opening of the Chicago & Northwestern Railway. There were 12 passenger cars and one baggage car, drawn by the locomotive Perry H. Smith.
The smash up was caused by the engine striking an ox which ran on the track directly ahead of the train, and too late for the engineer to give any warning. The locomotive is a complete wreck, but the engineer, fireman, and one other person on the engine escaped. The baggage car was thrown completely off the track into a ditch, and first passenger car directly on it. The baggage car was entirely demolished, and five passenger cars smashed up.

The dead at present are as follows: M. J. Thomas, U.S. Marshall, Jerome Mason, Fond du Lac, telegraph operator and express agent, J. Snow, Fond du Lac, J. Boardman do, T.L. Gillett do, John Lund, Oshkosh, G.F. Emerson do, O. Tetersdale do, L. Sherwood do, Dr. T. Miner, Watertown. Those most seriously injured as far as we can learn are V.B. Smead, the editor of the Press, Fond du Lac, skull very badly fractured, not expected to recover. E.H. Sickles, Fond du Lac, both legs off. A.D. Bonesteel, Fond du Lac, one leg broken. Robert Flint, Fond du Lac, one leg broken. Mrs. J. Radford, Fond du Lac, badly cut up. Mrs. R.M. Lewis, Fond du Lac, one leg broken. Mrs. Baldwin, Oshkosh, both legs broken. Mrs. James Kinney, Fond du Lac, one leg broken. Mrs. Bixby, Chicago, two ribs broken. The wounded are well taken car of. Will send more partiuclars as soon as possible to obtain them.
---