November 10
November 10, 1862: Armed resistance broke out in Port Washington at the draft headquarters. Draft commissioner William Pors was pushed down and kicked by the angry mob. Upon hearing about the resistance, Gov. Salomon dispatched the 28th Wisconsin regiment, allowing Pors to finish the draft.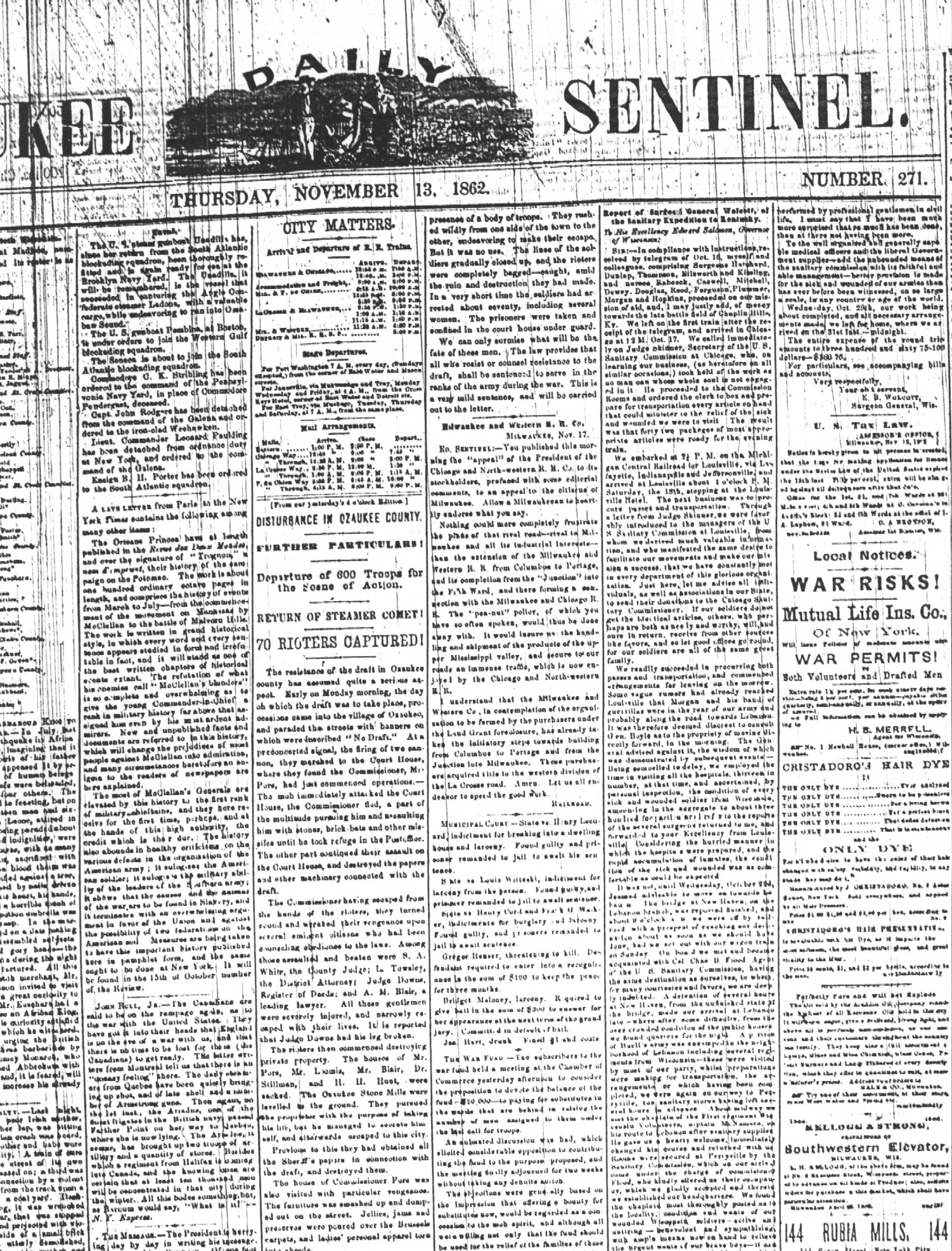 Milwaukee Daily Sentinel, November 13, 1862
DISTURBANCE IN OZAUKEE COUNTY

FURTHER PARTICULARS!

Departure of 600 Troops for

the Scene of Action

RETURN OF STEAMER COMET!

70 RIOTERS CAPTURED!
The resistance of the draft in Ozaukee county has assumed quite a serious aspect. Early on Monday morning, the day on which the draft was to take place, processions came into the village of Ozaukee, and paraded the streets with banners on which were inscribed "No Draft." At a preconcerted signal, the firing of two cannon, they marched to the Court House, where they found the Commissioner, Mr. Pors, had just commenced operations.

The mob immediately attacked the Court House, the Commissioner fled, a part of the multitude pursuing him and assualting him with stones, brick-bats and other missiles until he took refuge in the Postoffice. The other part continued their assault on the Court House, and destroyed the papers and other machinery connected with the draft.

The Commissioner having escaped from the hands of the rioters, they turned round and wrecked their vengeance upon several eminent citizens who had been counseling obedience to the laws. Among those assualted and beaten were S.A. White, the County Judge; L. Towsley, the District Attorney; Judge Downs, Register of Deeds; and A.M. Blair, a leading lawyer. All these gentlemen were severely injured, and narrowly escaped with their lives. It is reported that Judge Downs had his leg broken.

The rioters then commenced destroying private property. The houses of Mr. Pors, Mr. Loomis, Mr. Blair, Dr. Stillman, and H.H. Hunt, were sacked. The Ozaukee Stone Mills were levelled to the ground. They pursued the proprietor with the purpose of taking his life, but he managed to secrete himself, and afterwards escaped to this city.

Previous to this they had obtained all the Sheriff's papers in connection with the draft, and destroyed them.

The house of Commissioner Pors was also visited with particular vengeance. The furniture was smashed up and dumped out on the street. Jellies, jams and preserves were poured over the Brussels carpets, and ladies' personal apparel torn into shreds.

The mob continued in their highhanded career, and every person who was known to be a peaceful, law-abiding and law-obeying citizen was threatened with violence to his person and property. In many cases these threats were carried out with fearful exactness.