NOVEMBER 25
November 25, 1863: Arthur McArthur, Jr. rallied the union troops during the battle for Missionary Ridge outside of Chattanooga, Tennessee. When the Wisconsin flag bearer was shot McArthur picked up the flag and urged his men forward by yelling, "On Wisconsin, On Wisconsin." McArthur received the Medal of Honor for his heroism at Missionary Ridge. After the Civil War McArthur changed the spelling of his family name to MacArthur. He was stationed in the Philippines during the Spanish-American War and became military governor of the Islands from 1900 to 1901. His son, Douglas, who also received the Medal of Honor, would return to the Philippines as a hero during World War II.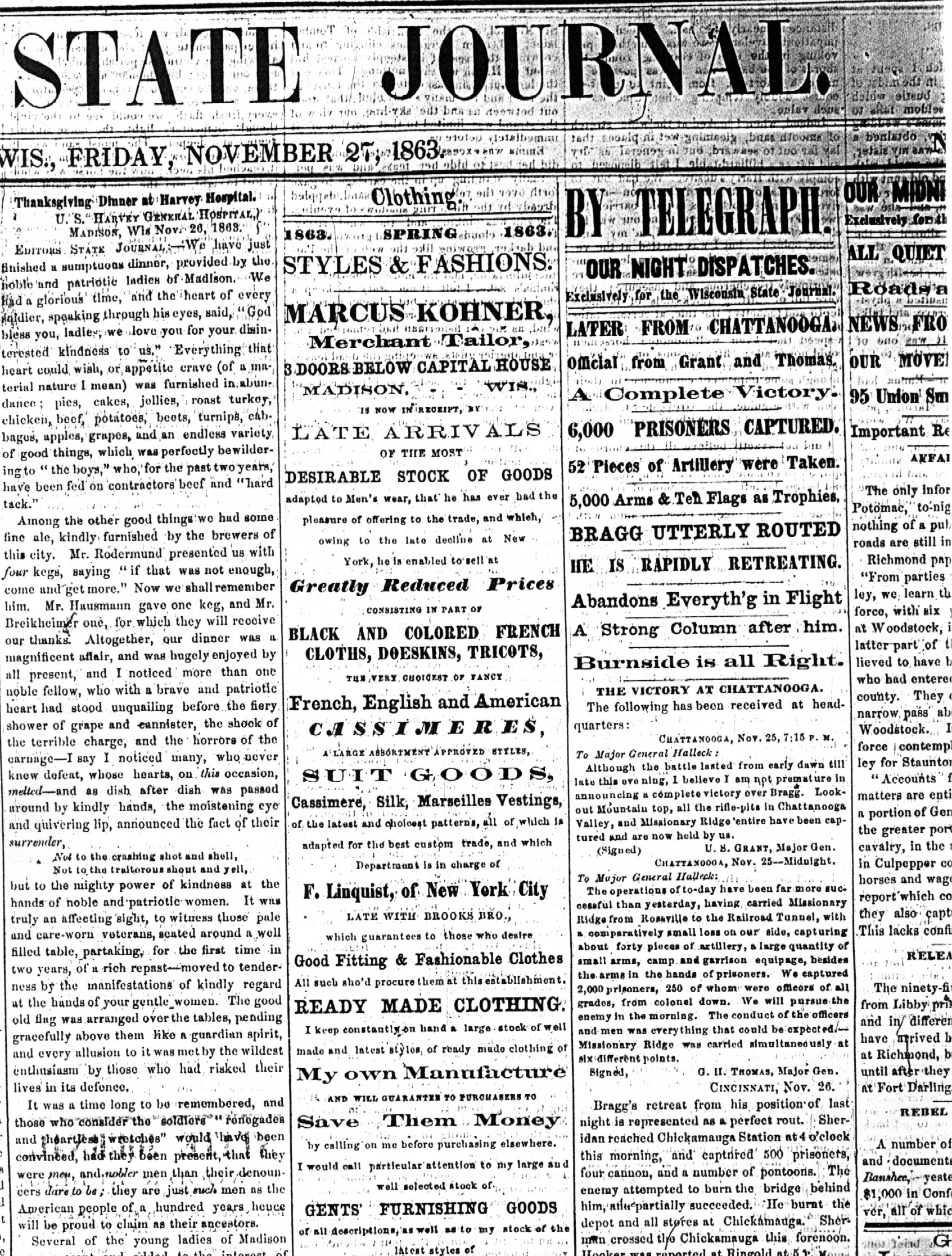 Wisconsin State Journal, Nov. 27, 1863
BY TELEGRAPH
OUR NIGHT DISPATCHES
Exclusively for the Wisconsin State Journal
LATER FROM CHATTANOOGA
Official from Grant and Thomas
A Complete Victory
6,000 PRISONERS CAPTURED
52 Pieces of Artillery were Taken
5,000 Arms & Ten Flags as Trophies
BRAGG UTTERLY ROUTED
HE IS RAPIDLY RETREATING
Abandons Everyth'g in Flight
A Strong Column after him
Burnside is all Right
THE VICTORY AT CHATTANOOGA
The following has been received at headquarters:
Chattanooga, Nov. 25, 7:15 P.M. To Major General Hallock;
Although the battle lasted from early dawn till late this evening, I believe I am not premature in announcing a complete victory over Bragg. Lookout Mountain top, all the rifle-pits in Chattanooga Valley, and Missionary Ridge entire have been captured and are now held by us.
(Signed) U.S. Grant, Major Gen.

Chattanooga, Nov. 25 - Midnight To Major General Halleck:
The operations of to-day have been far more successful than yesterday, having carried Missionary Ridge rom Rossville to the Railroad tunnel, with a comparatively small loss on our side, capturing about forty pieces of artillery, a large quantity of small arms, camp and garrison equipage, besides the arms in the hands of prisoners. We captured 2,000 prisoners, 250 of whom wer officers of all grades, from colonel down. We will pursue the enemy in the morning. The conduct of the officers and men was everything that could be expected, - Missionary Ridge was carried simultaneously at six different points,
Signed, G.H. Thomas, Major Gen.